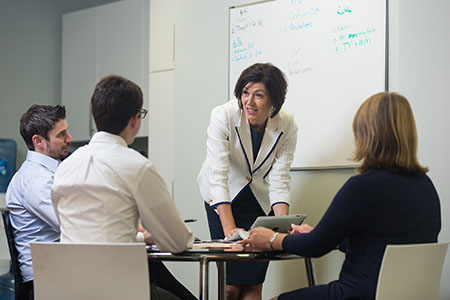 Since inception in 1995 we have aligned our goals with those of our clients. This means constantly supporting the growth in client assets under management and helping them reach other goals. These goals are the basis of the strategies we develop, customized for each firm, to showcase their unique brands and teams and meet each company's evolving needs.
Small and focused by design, our entire senior team of professionals works with every client—we have no "accounts"—to ensure that Kanter's expertise is applied where it will have the most impact.
Through our sole focus on the investment industry and our expertise in working with traditional and digital media we've built strong relationships with reporters, editors, producers and anchors. We reinforce these ties and build new ones every day. We make a positive impact on the business of our clients because our approach is intentionally different.
We are… 
Media-focused:
We understand the ever-changing nature of media, which creates new challenges in developing PR opportunities for companies. And yet our primary focus continues to be on traditional media that professional and individual investors have on their desks and screens. Our ability to have our clients' expertise consistently mentioned in these publications and broadcast channels continues to be an efficient and cost-effective way to engage investors.  Repeatedly our clients tell us that's the type of PR that helps them grow.
Global:
Today's financial PR has no geographic boundaries. Whether firms want to reach investors in New York or London, San Francisco or Hong Kong, Chicago or Abu Dhabi, we know how to connect them to business media that write and broadcast for those markets. Journalists in Singapore or Geneva, for example, may cover investment trends for US investors, while the New York newsrooms broadcast to a global audience. At Kanter, we represent US and off-shore clients, working across borders and communicating with reporters across time zones.
Results-oriented:
While the public relations industry continues to create new ways to demonstrate its value to clients, our measure is simple: supporting the growth in our clients' profitability and assets under management. Kanter does not use "mindshare charts" or "share of voice" metrics to convince clients of our effectiveness; they feel our impact as they become better-known brands and go-to experts, and see growth in the assets they manage.
Senior-level professionals:
At Kanter we are all seasoned specialists and we leverage our collective 37 years of experience for every client. In contrast to the large PR firms, we do not delegate media outreach to junior team members who may not have the skills, experience or subject matter expertise to discuss clients' business and products in the most compelling way. There are no tiered pricing models or extra charges based on seniority of the team members involved; work is assigned based on the best fit and strengths of each team member.
Team-oriented:
We are unique among PR firms in that every team member works on every client. Our CEO oversees all client work and leverages her years of experience and senior-level contacts on behalf of each client. We all have extensive experience designing and presenting client stories, writing about their expertise and communicating about their investment products in a way that even the most skeptical and seasoned reporter can appreciate.
Client-focused:
In our daily activity we are client-focused to a fault, spending minimal time on self-promotion. We use our time and energy to deliver results for clients, rather than chasing industry awards to have our work recognized. And we know that ultimately we reap the best reward: long-lasting relationships with the companies we serve. This approach grows not only our clients' bottom lines but our own as well.